DJ Que Madre has cultivated a musical style that is all her own, playing regularly at of-the-moment DTLA bars and clubs like La Cita, The Lash and The Melody Lounge. But as a member of Chulita Vinyl Club LA—an all-women-of-color DJ collective with seven chapters—she's just as committed to increasing awareness for underrepresented voices as she is about spinning the latest hip-hop tracks and cumbia tunes. (And as Hotel Figueroa's first Featured Sound Artist of 2019, she's created an exclusive playlist just for us.)
Get to know the DJ that's putting music in motion to pave the way for women of color and anyone that is underrepresented in the male-dominated DJ subculture.
How did you get your start as a DJ?
About three years ago, a friend posted on her social media that she was going to be starting the L.A. chapter of Chulita Vinyl Club, so I hit her up. I'd already heard of the club's other chapters from a blog, and had been collecting vinyl for a few years. We had our first meeting at my house, and I don't think we knew we'd go to the extent of where we are now. When we started, we were just a group of women and gender non-conforming folks who collected records and wanted to talk about music. But from there we got invited to play shows and gigs, and it took its own course.
What's the story behind your DJ name?
In Spanish, there's a phrase "¡Qué Padre!" which means "that's cool," so I wanted to switch and say "¡Qué Madre!" I also wanted folks to know that I was Latina and I'm also a mom, and in Spanish "madre" means mom. There are multiple meanings within my DJ name.
How would you describe your signature sound?
I like to make people dance. I play a lot of R&B, classic hip-hop, and Latin music. I'm a part of another group called Noche Romántica which means "romantic night," and there we play a lot of cumbia and románticas.
In regard to my playlist and the music I listen to, Omar Apollo is on there and I'm the biggest Frank Ocean fan. It's not dance music, but whenever I can play that, I will.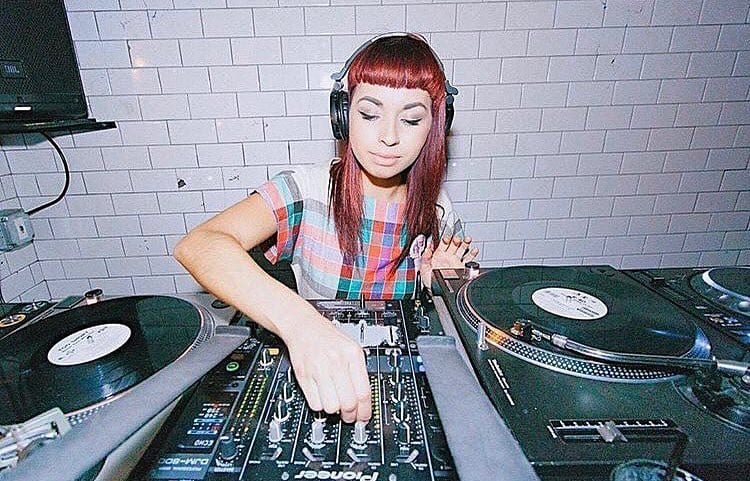 How are you and the Chulita Vinyl Club going against the standards created by the men who dominate the DJ community?
The diversity of the group is really important to me. The fact that there's a woman of color, non-binary, and gender non-conforming vinyl collective that exists is awesome. When I started, I hadn't heard about that.
When we play, we have to be better than everybody. When we fuck up, it's worse than when men fuck up. We're scrutinized when it comes to the technicalities of being a DJ, so with our collective, we just respect each other's experience level.
How have you used your talent to encourage those that may be interested in exploring this subculture?
We host Open Table Nights, where we go to a bar and invite women, queer folks, trans folks and gender non-conforming folks to bring their records to spin with no experience required. Someone told me, "The first time I ever played was with you at your Open Tables Night, and that was amazing for me."  It's about giving people that space and trust.
What's been the most valuable lessons you've learned since you became a DJ?
People have opened doors for me to be where I am at, and have taught me so much. I am very appreciative the DJs that have paved the way for me to be where I am at because I have not done this alone.
When I first started I didn't know how to mix or scratch—and I'm still learning—but you'll never stop learning and you'll never stop growing. Keep valuing yourself.
How can we all be more supportive of artists in this space?
If you want to support us, hire us. We've had experiences where we've been low-balled and folks try to take advantage of us because people want to tokenize us. If people want to respect this work, put some respect on my check. It's work to play places, haul equipment around, and set it up at someone's event. I'm trying to get better at saying "This is my worth. I'm worth that," and not having folks question that.
Discover More
Visitors to the hotel can hear DJ Que Madre's playlist outdoors in Veranda and the hotel pool deck, starting at 3pm daily,  through March 30th, or listen to the playlist now on Hotel Figueroa's Spotify channel. And check out Hotel Figueroa's events calendar to see when DJ Que Madre will play a set here next, and follow more of her musical adventures on Instagram.
We're continually inspired by the creative energy of Downtown Los Angeles. For local recommendations—and to hear from the diverse individuals who make DTLA what it is today—head to our Meet You Downtown blog.