Take one glance around Hotel Figueroa and it's easy to understand why the 268-room hotel has long been a hub for creativity, self-expression, and style. The Spanish Colonial architecture, warm atmosphere, and artistic cultural programming make the property one of the city's most inviting spaces for locals and visitors. But it's the hotel's heritage that adds an even deeper layer to this creative spirit. Hotel Figueroa's deep-rooted commitment to championing women's causes has helped the hotel carve a unique place in women's history.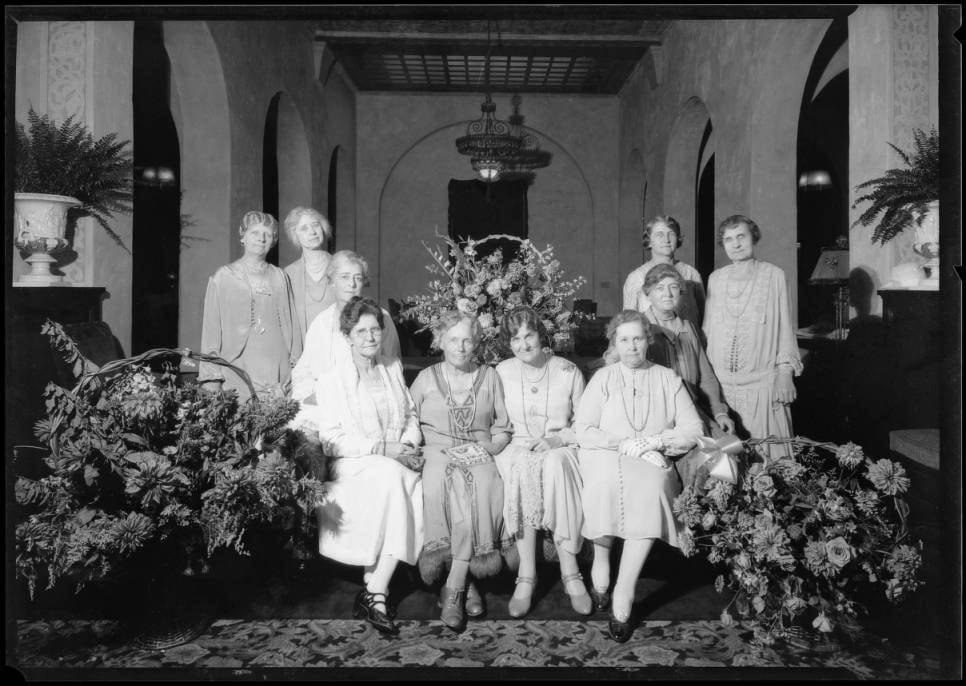 The story of Hotel Figueroa began in 1925, when women from the local YWCA secured a loan for what the Los Angeles Times called at the time "the largest individual financial transaction ever undertaken by a body of women in the United States" to build the hotel. Founded, financed and operated entirely by women for women, the hotel opened on August 14, 1926. At that time, not only could a single woman traveling alone face physical danger and social ridicule, she could also be denied lodging unless accompanied by a male chaperone. From the outset, Hotel Figueroa provided a safe haven for women travelers, devoting nine of its fourteen floors entirely to female guests.
A Pioneering Leader
At the helm of Hotel Figueroa was Maude N. Bouldin, the first female hotel manager in America and a woman who regularly flew planes, rode motorcycles, and openly challenged the gender norms that often kept women from achieving their full potential. Bouldin broke rules and cultural barriers whenever she could, and even showed up to the Hotel Men's Association convention at Arrowhead in 1926 to disrupt the male-dominated hospitality industry. Under Bouldin's leadership, the hotel became a place where artistry and social activism flourished, and Hotel Figueroa's reputation as a civic-minded institution attracted leaders from organizations like the Women's Law Enforcement Committee of Southern California, the L.A. Advertising Association, the California League of Women Voters, the Women's International League, and the Business Women's Legislative Council to hold meetings and events at the hotel.
Rough financial times brought on by the crash of 1929 and the Great Depression led the YWCA to sell the hotel—though it would continue to operate the property until the early 1950s. Today, more than 90 years since Bouldin helped open doors for women, Hotel Figueroa is still proud of its feminist heritage. It's our hope that, through dialogue, we can continue to push our society ever forward towards equality.
Happy International Women's Day from all of us at Hotel Figuera!
Psst: Don't miss the photograph of Boudin—on a motorcycle, no less— in the hotel's reception area, a reminder and symbol of the hotel's fearless past, vibrant present, and bright future.
Photos courtesy of Dick Whittington Photography Collection, USC Digital Library.
Discover More of DTLA
We're continually inspired by the creative energy of Downtown Los Angeles. For local recommendations—and to hear from the diverse individuals who make DTLA what it is today—head to our Meet You Downtown blog.