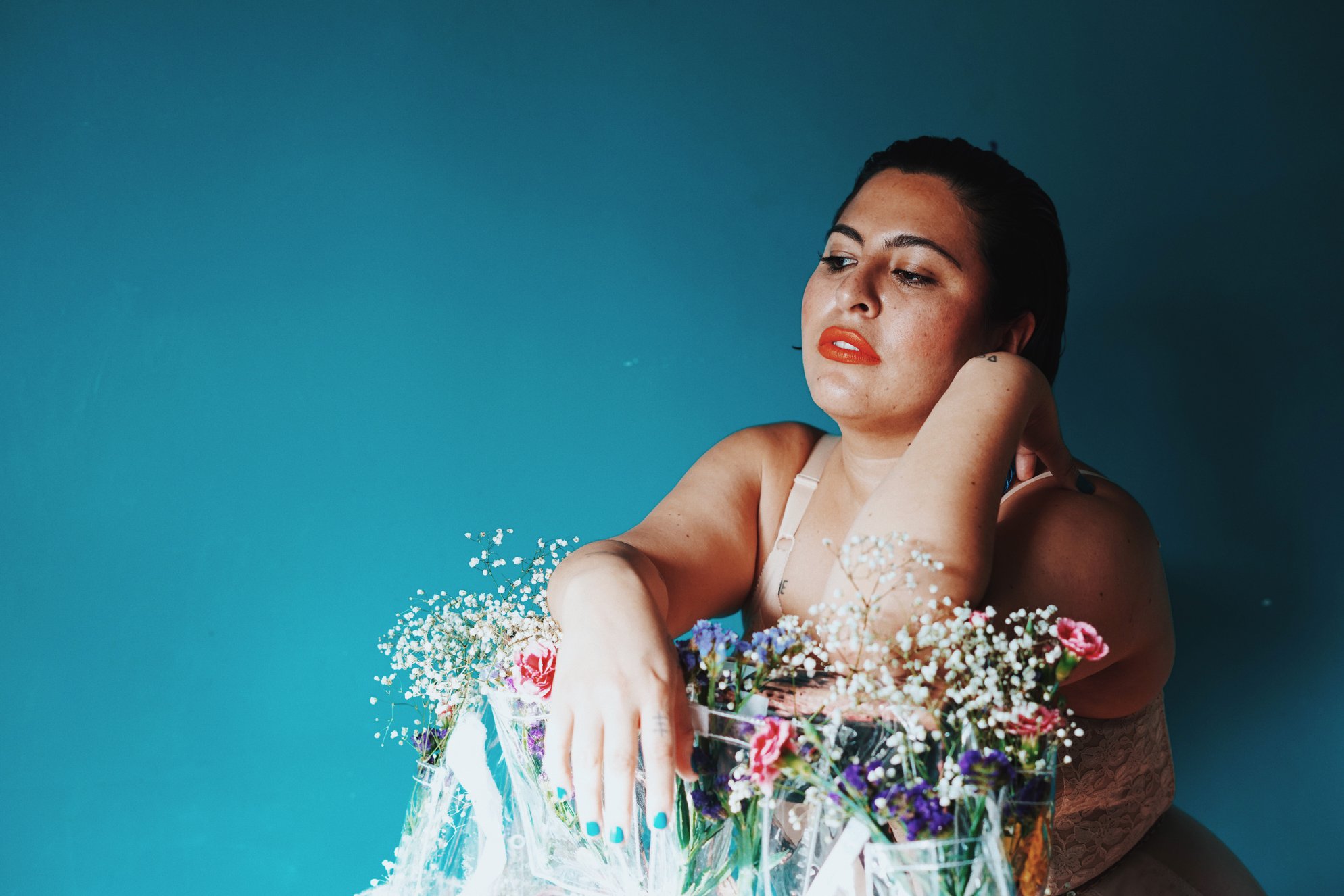 The past and the future live side-by-side in the deeply personal love music from Los Angeles-based singer and guitarist San Cha. Born Lizette Gutierrez, San Cha is a musical rebel in every way, even down to her stage name, a play on the Spanish word "san," which means saint, and "sancha," which translates to mistress. San Cha's powerful voice, larger-than-life stage persona, and moving lyrics—which she sings in both English and Spanish—are rooted in authentic storytelling, connecting her to her Mexican heritage while serving as a tool for creative introspection. A native of San Jose, CA, the singer moved to Los Angeles nearly four years ago at the insistence of friends, and she has already found a fan base and kinship within L.A.'s vibrant community of queer Latinx creatives.
Inspired to pursue music professionally after joining a church choir at the age of 12, a career in music was always in the card for San Cha. As the daughter of Mexican immigrants, San Cha's unique sound draws inspiration from the Catholic music, cumbia and Latin rhythms she grew with as well as the punk culture she grew to appreciate. Here, San Cha tells Hotel Figueroa about her greatest inspirations and how she hopes to bring communities together with her music.
How has your music helped you to explore your identity?
Being a musician has made me do things backwards. I didn't do things the way my parents wanted me to or do things in a linear way like going to school and graduating. Being a musician has changed everything in my life, but I don't see it as a change because it's the only thing I've ever wanted to do. To me, it has taken me to the right places.
You described your 2018 album Capricho Del Diablo as a mix of cumbia, church, and a nightmare. Who have been your biggest musical influences?
They've been changing over the years. When I was a kid, I listened to Selena and Gloria Trevi, and though it has changed, those are the people I go back to. I've been inspired a lot by mariachi singers like Lola Beltran and Chavela Vargas, who sing with a lot of emotional emphasis. It sounds like they're really going to die from a tragic love.
Have you integrated their styles into the music you write and perform?
My goal is to be able to match those kinds of melodies and that kind of mariachi style. I realized that a lot of the mariachi music I was learning was always the same three cords, but there are so many different melodies built on them. All really sad melodies that are supposed to be sad, so to me, that was really inspiring. I like to write in the fashion of tragedy.
How has the diversity of Los Angeles influenced your work and your sound?
There's a lot of Chicanx in L.A., and a lot of Latinx. A lot of people from working-class backgrounds that may still live at home with their parents at a later age and are deeply connected to their families. That has helped me in trying to bridge these gaps of our parents being immigrants from a different generation that don't understand, even though we have to live with them, and living with the influences that help us connect to our roots. In the Bay Area, I was doing minimal music that my parents wouldn't understand, and living here has moved me more to doing things that they would want to come see. Things that people in the queer community would want to bring their parents to see.
You aim to be a bridge between communities and cultures through your music. Has that always been a priority for you?
No, it's a recent thing after going to Mexico and coming to L.A. For a while, I wanted to be separate from my family. In a way, that did help me figure out my identity by myself and helped me find friends that I consider family, but at this point in my life, I've realized that I do love my family and I want them to see everything that I'm doing. I want to make work that's more accessible. Work that the señoras and old people are going to love, and work for you, even if you don't understand Spanish and English equally.
What themes and genres are you excited to explore next in your music?
The album I'm about to release is more disco-based. It's more like dance and electronic, but still exploring these acoustic vibes. I'm excited for it to be more like a story. It's like a telenovela, so a lot of drama. Adding more instrumentation is really exciting for me, and experimenting with sound has been really fun. I've already thought 15 years ahead about all of the genres I'm going to go into. I've already thought about my next album and the next one.
Discover More
Follow more of San Cha's musical adventures on Instagram and on her website.
We're continually inspired by the creative energy of Downtown Los Angeles. For local recommendations—and to hear from the diverse individuals who make DTLA what it is today—head to our Meet You Downtown blog.