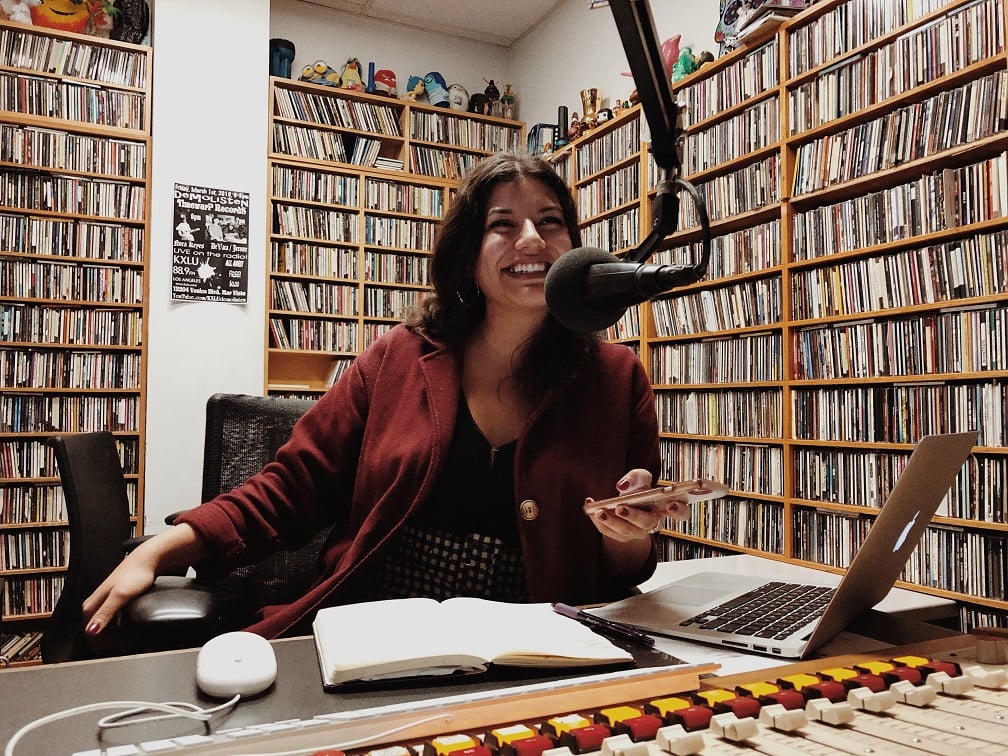 Hotel Figueroa's Featured Sound Artist series seeks to present an authentic reflection of the culture of Los Angeles through the ears of local musicians, DJs and culture-shakers. In keeping with Hotel Figueroa's history and legacy, we focus on supporting intersectional feminism.
We connected with Mukta for a chat about her musical influences and inspirations as well as her vision for the city of Los Angeles.
Mukta, when you were selecting songs for the Hotel Figueroa playlist, what styles or moods did you have in mind?
When I was selecting songs for the playlist, I imagined a variety of guests in the hotel lobby, each there for their own reasons – a group of friends catching up and getting a drink, a couple checking into the hotel for a romantic getaway, someone journaling and having a self-care day, a family visiting LA for the first time excited to be in a new place. I wanted the playlist to start out with road trip songs that evoke a journey. For me, that tends to be folksier with some indie pop. Then it picks up to dancy-er disco, funk, and post-punk, and it winds down with more ambient and dreamy sounds.
Your playlist reflects a wide variety of styles, yet seems to celebrate women's voices in music. Was that intentional and if so, why?
The history of Hotel Figueroa is deeply rooted in supporting women travelers and the hotel today is actively supporting women in the arts, so it seemed fitting to have a healthy mix of women vocalists in the playlist. I also personally love feminine vocals and most of my favorite musicians are women, so this came very naturally to me.
The inclusion of Turkish pop singer Kamuran Akkor on your playlist was a pleasant surprise. How do you typically discover older music from different scenes like this psych-pop gem?
Yes, love her and Turkish psych-pop! I love learning about different countries and use music as an entry point into learning about culture, history, politics, religion, and food. I find myself often choosing a country and a time-period and then going down a rabbit hole of Youtube videos, blog posts and searching for anything that moves me in some way – either emotionally or gets me dancing. That usually leads to a lot of google translating, especially with comments. I am starting to have an idea of time periods and regions that I really like which helps when I'm buying records, but when it comes to world music I often will take a risk based on the album cover! And I try to buy records whenever I travel to different countries!
How does your playlist reflect your experience of life in L.A.?
The songs that I chose for this playlist represent different ways that I personally experience living LA. The folksier songs feel like a driving up to Mount Wilson to watch the sunrise from the mountains. The post-punk feels like swapping mix cds with friends, staying out way too late and getting Taco Zone mulitas on the way home. The dancy world music, oldies and new wave feel like an impromptu living room dance party with 4 friends on a Thursday night that turns into hours of laughing and goofing around wearing wigs and making dumb videos that we will years later project on that same living room wall to remember. And the dreamier slow stuff towards the end feels like journaling at a coffee shop at night, people watching and reflecting on my tiny place in this giant universe.
If you had to name some new groups or musicians making music in L.A. that you are particularly excited about, who would it be?
Ooh I love Chasms, Paige Emery, Girlpool, Weyes Blood, Drugdealer, Sasami, Winter and lots of others!
Your weekly show on KXLU, Sunset Hour, is a remarkable oral history project that covers the people and places that make L.A. such a vibrant city. Please tell us more about it and where we can listen to it.
Sunset Hour airs on Sunday nights from 7-8pm on KXLU 88.9fm in LA and kxlu.com. I interview writers, artists, activists, historians, botanists and anyone else I find interesting about their work in Los Angeles. It's technically a public affairs show but I try to make sure the subjects I choose fit the KXLU vibe. I've had local poets on to do readings and talk about how the city informs their work. I've had fashion designers on to talk about inclusivity in fashion and reforming the garment industry. And I often have activists and people who work in the non-profit space on to talk about how they work towards social justice. The show isn't trying to be NPR. It's very DIY and scrappy and has a college radio feel to it but I think that's part of the charm and why it works on this station!
Is Honey Power still active? Can you give us an update?
We're kind of on a hiatus but plan to make a comeback when everyone's schedules wind down!
If you had one wish for the future of Los Angeles, what would it be?
If I only had one wish for the future of Los Angeles, I would ask for our housing crisis to be properly addressed through housing those in need, protecting tenants from unjust evictions and rent hikes, building public and affordable housing and by changing policy in a way that creates a sustainable housing market that is meant for all Angelenos. There are a lot of great organizations working on these issues and I hope to see more investment in preserving our city's vibrant communities!
Discover More
Visitors to the hotel can hear Mukta Mohan's playlist every afternoon betwen 2pm and 6pm, or listen to the playlist now on Hotel Figueroa's Spotify channel. Follow more of her musical adventures on Instagram and on her website.
We're continually inspired by the creative energy of Downtown Los Angeles. For local recommendations—and to hear from the diverse individuals who make DTLA what it is today—head to our Meet You Downtown blog.