Downtown Los Angeles, Hotel Figueroa's home for nearly a century, is one of the most energetic neighborhoods in the country. Recent development has vaulted it onto the visitor's map of LA, with world-class restaurants, art museums, sports and performance venues, and multicultural communities defining the district.
But to understand DTLA as it is today, you have to go back to the beginning. Here's a quick look at how Downtown Los Angeles as we know it came to be.
Origins
The known history of L.A.'s downtown begins with the indigenous Tongva peoples who occupied the land before their lives were upended with the arrival of settlers in 1781. Under Spanish and then Mexican rule, the small settlement slowly grew as a Catholic mission and ranch town, centered near where Union Station is today. After the Mexican-American War, Los Angeles fell under U.S. control
The Boom Years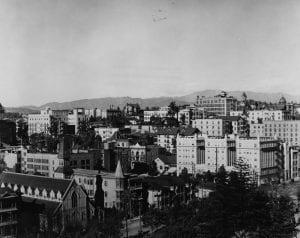 With the expansion of railroads in the 1870s and the discovery of oil in the 1890s, the city experienced a massive population growth (from a mere 1,600 in 1850, to more than 300,000 in 1910). Industrial and commercial activity soared as well, prompting a rezoning that eliminated all residential housing in the downtown area, opening up hundreds of square blocks for manufacturing, office and retail space. Grand hotels, including Hotel Figueroa, opened to house the influx of visitors in town for business, and the district became a powerhouse, with iconic landmarks —Union Station, Los Angeles City Hall, the Los Angeles Central Library—and a theater district with the highest concentration of movie palaces in the world.
Urban Decline
After World War II, the rise of the trucking industry and the appeal of modern factories in nearby neighborhoods put many of the downtown factories out of business. The district gradually fell out of favor, and experienced a progressive decline. Various conservation and urban renewal projects launched in the 70s and 80s fought tirelessly to preserve downtown's legacy and encourage expansion.
Downtown Los Angeles Renewal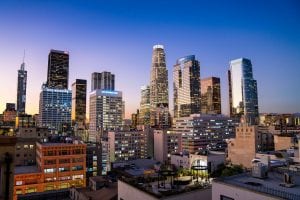 Recent decades have seen an unparalleled amount of urban redevelopment in Downtown LA. Much of it stems from 1999. That year saw the pivotal opening of L.A. LIVE and the Staples Center, and a key re-zoning ordinance.  Since then, hundreds of developments and projects have enticed businesses, visitors and locals to Downtown, and the neighborhood has become one of the most electrifying districts in the country. We're so excited for what's to come!
Discover More of DTLA
We're continually inspired by the creative energy of Downtown Los Angeles. For more local recommendations—and to hear from the diverse individuals who make DTLA what it is today—head to our Meet You Downtown blog.
Photos courtesy of USC Digital Libraries, Los Angeles Public Library Digital Collections