In honor of Black History Month, we're looking back into the Los Angeles history to a century ago, when Georgia Ann Hill Robinson became the first LAPD policewoman—and one of the first in the entire country. Here, we share the incredible story of how one woman rose through the ranks of the LAPD and fought tirelessly for equality throughout her life.
African American men had begun serving in the LAPD by the late 1880s, and by 1910 Alice Stebbins Wells had become L.A.'s first woman to have arresting powers (and the first policewoman in the country), but it wasn't until June 10, 1919 that Georgia Ann Hill Robinson made history by becoming the first black woman to be appointed by the LAPD.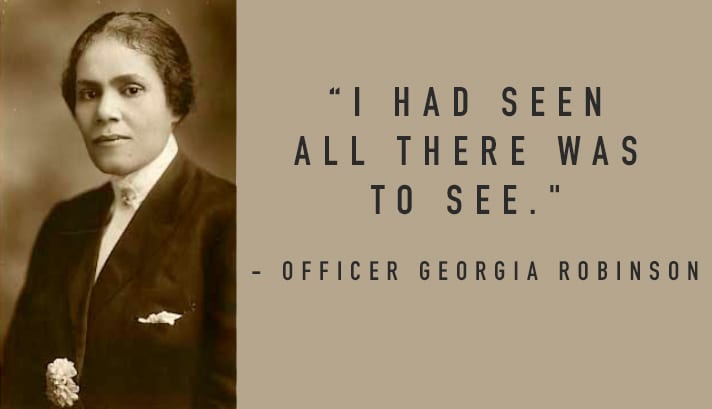 Robinson's law enforcement career had begun in 1916, when the LAPD—running low on officers during World War One—recruited her as a volunteer due to her community activism. Born in Louisiana in 1879, the Robinson had worked as a governess in Kansas before moving to Colorado and settling in California, where she lived with her husband and daughter, Marian. For three years, she served the LAPD on a volunteer basis before her official employment in 1919. Finally hired as a jail matron, she eventually became an investigator, working on homicide cases and incidents involving juveniles. 
Robinson's work in the community extended beyond the LAPD, as her experience in the field led her to open a shelter for women in need called the Sojourner Truth Home. She also helped change the system from the inside, referring young black women to social agencies instead of arresting them, in what the National Troopers Coalition has called "one of the first attempts by the LAPD to provide services to the black community."
In 1928, Robinson's career with the LAPD came to an abrupt end. Trying to break up a fight between two women inmates, the forty-nine-year-received a head injury that left her permanently blind. Decades later, she'd tell Ebony magazine, "I have no regrets. I didn't need my eyes any longer. I had seen all there was to see."
After retirement, Robinson would go on to advocate for Civil Rights alongside the NAACP, working to desegregate schools and beaches in Los Angeles (despite laws dating back to 1880 indicating public spaces were free for everyone to use, they were still racially segregated until around 1960).
Robinson would live the rest of her life in Los Angeles, a place that she served and protected for more than 40 years, until her death in 1961. 
We're continually inspired by the creative energy of Downtown Los Angeles. For local recommendations—and to hear from the diverse individuals who make DTLA what it is today—head to our Meet You Downtown blog.